I have had the pleasure of getting to know LeeLee for awhile now. We were partners on a
craft swap
and she rocks by the way. I think she's fabulous. And her blog is amazing!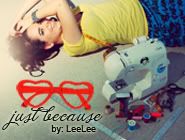 I have the pleasure of having some of my Etsy loot as a
giveaway
on her blog. You should so check it out! :) There is some pretty kick-arse stuff on there, if I may say so myself!
Go show LeeLee some love! <3